The Client is a large retail chain based in Germany. It has over 800 stores and 11 distribution centres in Poland. It currently employs over 25,000 people and is constantly growing dynamically. The Client's network achieves over 70% of its turnover through cooperation with Polish suppliers. It aims to sell high-quality, fresh, and sustainably produced products.
THE CHALLENGE
The customer wants the logistics packaging they use to transport vegetables to be reusable over a long time. Therefore, the requirement for root vegetable suppliers was to transport the goods in carriers that would themselves be part of the distribution, bypassing the logistics center. Since this was a seasonal delivery of vegetables, the goal was to select a suitable packaging that could work as a returnable packaging for several months.
THE SOLUTION
The rental of wooden pallet collars proved to be an ideal solution. The customer decided to rent 4000 boxes during the fresh vegetable season for four months. The wooden pallet collars were delivered directly to the chain's sub-suppliers, where the vegetables were packed, and then the packs and their cargo were sent to 810 stores in Poland.
We send pallets all over the country to various institutions – cold stores, freezers, and food warehouses.
Why are pallet collars great for the retail and food industry?
Wood is a natural material that helps to keep root vegetables fresh. A wooden pallet measuring 1200 × 800 mm with a wooden pallet top makes a roomy and practical box. After use, the extensions can be folded up to take up less space for return transport. They are also easy to store. The pallets and the pallet collars are ISPM15 fumigations certified, ensuring that the wood is safe.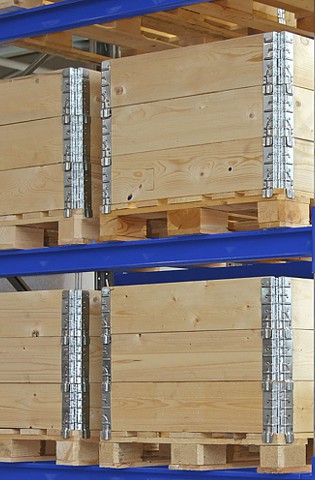 "The idea was to find a packaging that bypassed the packaging element of the distribution center, but became a distribution element in its own right, allowing the customer to take the product straight from the extender into their basket."
RENTAL RESULTS
Renting wooden pallet extensions proved to be an ideal solution for the Client, as it met their need for temporary packaging while fitting into the Client's supply chain.
The pallet collateral rental project once again demonstrated how flexible our packaging is, adapting to our Client's supply chain requirements. We have extensive experience renting various carriers in the food, agriculture, and retail industries. If you would like to discuss renting packaging for a specific period, short or long term, we will find the best solution for your business.