The client is one of the largest manufacturers of household appliances in Poland. As a division of a multinational corporation, it produces almost one-third of the total volume in the region of Europe, the Middle East, and Africa. It is a significant player in the market, which develops the production capacity of its factories.
THE CHALLENGE
Continuity of production is a priority
Continuity of production is a priority for the Customer. When a company stops output for two weeks during a holiday season, it does not produce components that need to be available non-stop. Therefore, it is necessary to create a temporary warehouse where elements that are in stock would be stored. Similarly, when the Customer decides to overhaul or maintain the machines, he needs, e.g., to produce not one million but several million components and prepare an appropriate place for storing them.
Random events are yet another situation. Concerning the Customer, a fire broke out in the factory of its sub-supplier (production of rubber elements), and it was necessary to organize a place for storing components in hundreds of Gitterbox baskets.
Why are Gitterboxes the ideal packaging for the manufacturing industry?
Gitterboxes are robust metal packaging used in the industrial and manufacturing sectors. They are commonly used in regular operations as storage rubbish cans for parts and components or as temporary storage when components are rotated between suppliers or within the same plant.
SOLUTION FROM ROTOM
We have been working with a Client for several years, offering them a time flexible rental. It is a rental model for large companies with one fixed rate. It is pretty encouraging for big players on the market because it is easy to calculate costs.
What does the rental service look like in practice?
The company sends a request for a specific number of garbage cans and is immediately informed about the time of collection. Since the cooperation model does not include time frames, the client gives the packaging back when it is no longer needed. It is a convenient solution because the Customer knows the daily rate and can quickly assess that if he needs trash for a month or two, he will pay a fixed amount and then return the packaging.
The Customer also does not have to invest in the purchase of packaging. In this way, space is saved in the warehouse because the packaging does not stand unused after an intensive period of use.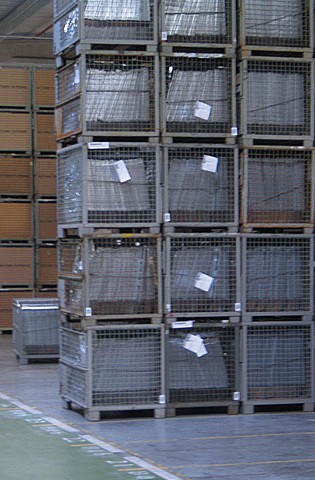 Results
The Customer is satisfied with the cooperation with us for several reasons. Foremost, it is a convenient and cost-optimal solution. Such packaging is needed for one, two, or three months. Even if the client resells the packaging after its useful life, he will lose because the cost of renting is lower than the difference in price between new and used packaging.
Secondly, cooperation is excellent because we always have the packaging we require. We always receive boxes on time – call today and collect tomorrow. We always try to have a few hundred Gitterboxes available. Overall, we have tens of thousands of carriers in circulation. Even if we do not have used carriers, we invest in buying new ones to ensure that the packaging will always reach the Customer.
Besides, we care about packaging safety because the rental service also includes service and repair. We have an EPAL certificate for repairing Gitterboxes. This way, you can ensure that your packaging is fully operational and safe for stacking.
Why is it convenient for companies to rent packaging from Rotom?
Many companies in Europe rent only one type of packaging, e.g., one type of pallet. But at Rotom, we have a wide range of rental of different products – from wooden pallets to plastic and metal packages. We also service these packages – so that each one is fully operational at every stage of the supply chain.