In the food industry, shelf life is of paramount importance. For the client, operating as a manufacturer and retailer of pizzas on the Dutch market, the distribution of fresh products is crucial. The high quality of ingredients and favourable purchase prices impact brand popularity and business development. For this to happen, perfect organization of logistics processes on the organization side is essential.
THE CHALLENGE
The client's marketing department very often plans seasonal promotional actions. Most often, the steps are taken quickly, at the last minute. For example, a given pizza ingredient is at a reasonable price. Purchase managers can purchase it in larger quantities, or the marketing calendar requires the use of special periods or holidays for company activities. Logistics specialists on the customer side must organize it smoothly in such a situation. The higher volume of deliveries affects the need for many rolling cages working in warehouses during this intensive period.
SOLUTION
Seasonal activities require efficient operations. Due to the high urgency of operations, rental rather than the purchase of rolling cages is most advantageous. In this case, the customer requires an average of 500 additional roll containers for 2-3 weeks to cope with the higher volume of deliveries. The customer usually collects the carriers themselves from Rotom's warehouses in the Netherlands, which are advantageously located near the customer's operations.
What kind of roll containers for rent works well in the food industry?
For the customer as a pizza producer, double-sided roll containers with dimensions of 800 x 615 x 1485 mm and a plastic base work well in warehouse logistics. This type of roll container is thermally galvanized and thus resistant to scratches and rust. Additionally, the roll container is equipped with four rubber wheels, which are quiet and adapted to the surface on which the cart with the load is transported. Placing goods on the roll container, whose load capacity is up to 500 kg, is a practical and efficient way of loading, unloading, and safely transporting products.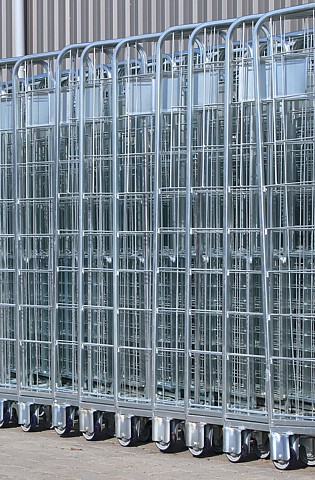 The customer is delighted with the rental service because we respond quickly to the customer's demand. In this case, the manufacturer's company is located close to one of Rotom's warehouses, so the transport with roll containers arrives the same day.
RESULTS
Thanks to that, regardless of many shifts or the urgency of actions, logistic operations are performed on time, positively influencing the brand image. Indeed, without such a quick way to get additional roll containers, marketing campaigns could not occur.
We are at your service if you are looking for a logistics partner who can quickly respond to your current needs, or if your organization requires additional logistics media supply. Our specialists will promptly contact you and efficiently select the appropriate carriers and logistics solutions. Please fill out the form below or contact us by phone.