The client is a world-renowned logistics company. It has been operating on the market since 1977 and is constantly developing, investing in technological development. As a 3PL (Third Party Logistics) company, it provides comprehensive logistics services worldwide to around 13,000 customers in various industries such as electronics, machinery, chemicals, oil refining, construction, distribution, food, energy, and fashion. In Poland, it cooperates with Rotom in renting warehouse packages.
THE CHALLENGE
The client is constantly expanding and is the owner of two new warehouses near Wroclaw. It is constantly increasing its storage space as it serves more and more customers. To deliver large quantities of products, a fully equipped warehouse space is needed. Currently, the warehouse was not yet equipped with fixed racks and customer service had to start as soon as possible. To this end, the logistics managers were looking for a temporary solution that would serve its purpose until the warehouse halls were equipped with a storage system designed for them.
SOLUTION
The ideal solution turned out to be renting Mobilrack mobile racks. The client decided to use this solution because renting 3000 racks for a period of 6-7 months enabled regular company work until permanent equipping of the warehouses. According to the contract, we delivered the racks after just a few days, and then we delivered more racks to the client's warehouses in direct proportion to their needs. When the permanent storage systems were installed in the warehouse halls, the mobile racks were successively returned to our warehouses and the goods were moved to the right place.
Why has the rental of a Mobilrack system proven to be an effective solution?
The biggest advantage of this type of steel rack is its mobility, i.e. the possibility of folding and unfolding them in direct proportion to needs. Besides, in the case of the client, the single shelving units with a support height of 1500 mm worked out well, so that logistics customers could be served smoothly in two completely separate warehouses. The fact that this storage system is strong, stable, and TUV-certified guarantees that it is 100% suitable for storing and stacking bulky goods.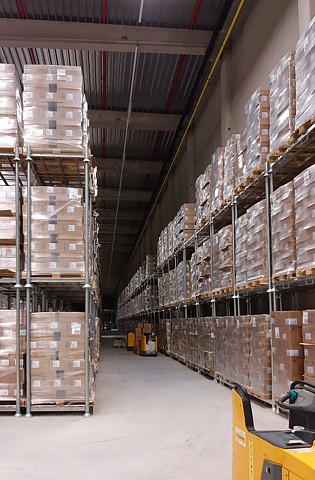 Renting Mobilrack racking enabled the client to gain greater flexibility in its operations. Just when he needed the right storage media the most, he received it at express speed to continue his logistics operations without any hindrance.
RESULTS
Because Rotom has its carriers in warehouses all over Europe, the customer did not have to wait long. We were regularly supplementing missing carriers and delivering new ones so that the supply chain was running smoothly. Smooth cooperation with Rotom, flexible adaptation to the Customer's activity, and good financial conditions are only some advantages resulting from the cooperation within the rental.
If you also need to rent a specific logistics carrier: pallets, pallet collars, or racks for your warehouse, we are ready to flexibly adapt to the needs of your business. Our specialists are ready to answer your questions and adjust the rental conditions for the time you need. Contact us by filling in the form below, and we will choose such a solution so that you can do your work smoothly and without interruptions.