Our Client is a leading European 3PL (third-party logistics) company. It has been involved in industrial goods logistics since 2005 and delivers over 35,000 full loads per year. The main markets are Germany, Benelux, and France. The Client's activities aim to optimize logistic routes and realize "last mile" transports. In numerous logistics centers throughout Europe, the Client serves its partners in steel logistics, beverage logistics, warehouse logistics, and special and multimodal transport. Many companies now work with the Client, outsourcing their logistics operations and delegating transport, storage, and distribution.
THE CHALLENGE
The Client works with the automotive industry, which manufactures batteries for electric cars. His job is to store these products safely so that the storage process meets high safety standards. Each freshly manufactured battery has to "wait," i.e., it has to be safely checked for quality several times. In this situation, storage racks are ideal.
However, the challenge was that the number of batteries produced varies over time. Sometimes, the customer receives a massive quantity of manufactured goods to be stored. Therefore, a flexible solution was needed, which would provide a buffer for storage.
SOLUTION
Since December 2020, we have been working with a client to rent Mobilrack mobile storage racks, both single and double ones. Rental is a flexible and convenient solution. The rental process is beneficial when the product is a varying amount; production can increase or decrease depending on how many batteries the Client receives produced. It remains flexible; for example, if it learns that battery production has increased by 30%, it can easily rent the required amount of Mobilrack from Rotom.
It is a continuous rental, which means a fixed rate per day. Pallet racks are added or taken away in any quantity (e.g, from 400 to 1000 units) depending on the number of orders and battery production.
Why is mobile rack rental the ideal solution?
The automotive industry has stringent regulations when it comes to storage, and Mobilrack's storage racks meet them exactly. The single and double racks are TUV-certified for the relevant standards, which every metal construction must comply with. It is all about stability and load capacity (up to 2,000 kg in the double rack), which results from the design of these carriers. The batteries weigh between 200 and 500 kg each, and their storage must be at the correct spacing per 1m², following health and safety regulations.
Mobile racks, by their very name, offer the possibility of a specific movement, as they can be folded and unfolded in direct proportion to the storage needs of the goods, depending on the situation.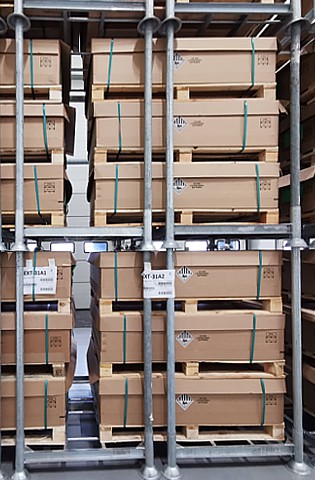 "The main value for the customer is the flexibility of the rental, namely the fact that the carriers can give and take away analogous to the customer's orders. Even if storage space were cheap, the very nature of the product determines that it must be stored on metal racks, and in turn, the racks should be stored in a manner consistent with safety regulations."
RESULTS
Does your business require a similarly flexible approach? If you're not sure how your customers' production activities will develop or don't know if a particular warehouse space is your target, it's worth considering the convenient option of renting racking, pallets, or other logistical packaging.
Our specialists will be happy to advise you on the optimal solution. Contact us by phone or fill in the form, and we will be glad to answer your questions.